Light painting of ghostly swordfish near Valletta, Malta, by Maltese street artist Twitch, in collaboration with Our Fish & Dancing Fox. Image: Twitch/Dancing Fox/Our Fish
Malta, October 5th, 2017:- As political, business and civic leaders from around the world converge in Malta today for the annual Our Ocean conference, Michelin-starred chefs have joined world famous street artists to demand urgent action on the region's growing fisheries crisis from ministers of the EU's Mediterranean nations and EU Environment, Maritime Affairs and Fisheries Commissioner Karmenu Vella.
"Mediterranean fisheries still have a chance. They may be 96% overfished, but if urgent action is taken to halt their overexploitation, these EU fish stocks have a good chance of rebounding to more sustainable levels by 2020. What's needed is political will from Mediterranean EU nations to take real action, and to take it now, before, it's too late", said chefs Massimo Bottura (It), Paco Morales (Es), Christopher Coutanceau (Fr), David Ariza Abad (Es), Valerio Calabrese (It), Nicola Attianese and Filomena D'Uva (It) , in a letter addressed to Commissioner Vella, and Fisheries Ministers from Italy, Spain and France.
"When artists and chefs are asking what we will eat if all the Mediterranean's  fish are gone, we're wondering why leaders at the Our Ocean conference are not asking themselves the same question", said Rebecca Hubbard, Program Director for campaign organisation Our Fish. "It's not enough for EU fisheries ministers to celebrate signing declarations of intent for the Mediterranean  – they need to make good on the intentions, by acting now to protect our fish stocks."
Currently, 96% of EU Mediterranean stocks are overfished. Official discards  – fish caught but thrown back dead or dying – are estimated at 230,000 tonnes per year (18% of Mediterranean fish catches) [1] – not  including what goes unreported [2]. Fishing causes or contributes  to 93% of depletions of Mediterranean marine wildlife and 100% of local extinctions [3]. Bottom trawling is driving the decline in already endangered shark and ray populations in the Mediterranean, and is the major culprit in overfishing of demersal, or bottom dwelling species [4]. European hake – is exploited at almost 15 times the sustainable rate in some areas [5].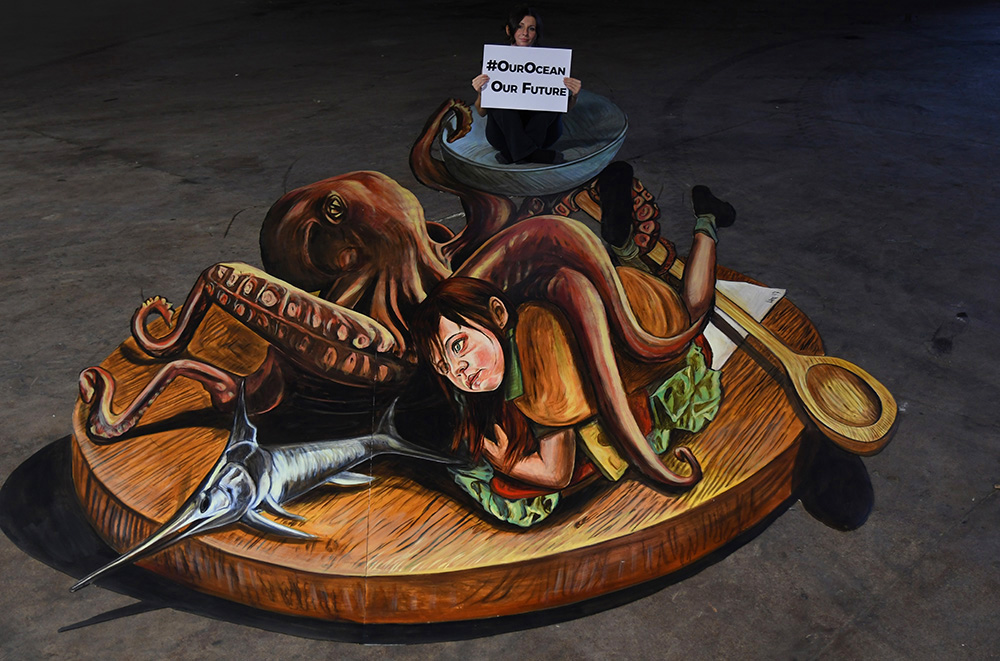 "I created this artwork inspired by a single question: what will we eat if there are no more fish?" – Vera Bugatti.  Vera Bugatti/Dancing Fox/Our Fish – Photo by Zigli Jonathan Borg.
To remind Our Ocean delegates of their opportunity to help protect Mediterranean sea life, Maltese street artist Twitch has collaborated with Our Fish to create a spectacular light painting, depicting a ghostly swordfish leaping out of the waters surrounding Valletta. "As humans we look always to the ocean — for inspiration, for food, for culture, for life. If we don't take urgent action today to end overfishing, soon all we will be left with are ghosts," said Twitch.
Italian street artist Vera Bugatti has created a 3x6m canvas that challenges us to see overfishing from the point of view of the marine life itself.  "I created this artwork inspired by a single question: what will we eat if there are no more fish? The Mediterranean has shaped our food, our art and our culture for thousands of years, and today it is time for us to come together to protect this rich cultural and natural bounty for generations to come," said Bugatti. Bugatti's painting will be on display in Spinola Bay from 16:00 on Thursday afternoon.
ENDS
Photo & Video
The letter from chefs to ministers can be downloaded from here
High resolution images of Twitch's light painting can be downloaded from here
Further high resolution images photo and video will be available from here
Infographic: How to stop Mediterranean Overfishing is available here
Contacts
Dave Walsh, Communications Advisor, dave@our.fish +34 691826764
Rebecca Hubbard, Program Director, rebecca@our.fish +34 657669425
Follow Our Fish on Twitter: https://twitter.com/our_fish
About Our Fish
Our Fish works to ensure European member states implement the Common Fisheries Policy and achieve sustainable fish stocks in European waters.
Our Fish works with organisations and individuals across Europe to deliver a powerful and unwavering message: overfishing must be stopped, and solutions put in place that ensure Europe's waters are fished sustainably. Our Fish demands that the Common Fisheries Policy be properly enforced, and Europe's fisheries effectively governed.
Our Fish calls on all EU Member States to set annual fishing limits at sustainable limits based on scientific advice, and to ensure that their fishing fleets prove that they are fishing sustainably, through monitoring and full documentation of their catch.
About the Artists
Vera Bugatti is an internationally recognised Italian artist and street painter.
She has taken part in multiple exhibitions, and she has performed in several street art events all over the world. She has won awards for her work in Italy, The Netherlands, France, Germany, Ireland, Croatia, Austria, Malta, Sweden, Denmark, Bosnia & Herzegovina, Russia, Latvia, Portogallo, UK, Bulgaria, USA, Mexico, Emirates and India.
Her 3D street painting, also commonly known as pavement art, street art, or sidewalk art, is the rendering of artistic designs on streets, sidewalks, and town squares with semi-permanent or impermanent materials such as chalk. This type of art was born with the first Italian pavement artists (the Madonnari) that have been traced back to the sixteenth century.
James Micallef Grimaud, aka Twitch, is a Maltese artist known as a pioneer of street art in his country. Starting in the mid '90s, he began creating artwork with spray paint on walls in derelict locations around Malta. He is the first graffiti artist on the island credited with creating street art that has "deeper meaning".
In addition to his street art, Grimaud also works with acrylics, oils, and other media in his studio. He has featured in numerous solo and collaborative shows, both internationally and at home in Malta. His unique style and groundbreaking large-scale work kicked off a massive  interest in street art on the island, and he remains a unique and leading voice within the scene today.
Notes
Our Ocean is a global conference, held annually at different locations – the 2015 version was held in Valparaiso, Chile, while John Kerry oversaw the 2016 edition in Washington DC. The 2017 edition is hosted by the European Commission, and Commissioner Karmenu Vella, who is from Malta. More details at https://ourocean2017.org
[1] FAO (2016): State of the Mediterranean and Black Sea
[2] FAO (2016): State of the Mediterranean and Black Sea
Discards are mainly generated by bottom trawls (40%), and range from 15-65.5% of catches. Pelagic trawl bycatch levels range from 10-50%, and for purse seiners and small scale fishers from 2-15%
[3] FAO (2016): State of the Mediterranean and Black Sea
[4] FAO (2016): State of the Mediterranean and Black Sea
[5] Oceana (2016): Mediterranean Sea, A key EU fishing region in a bleak state of overfishing