Download report pdf: Illegal Baltic cod discards are wasting fisheries, communities & the environment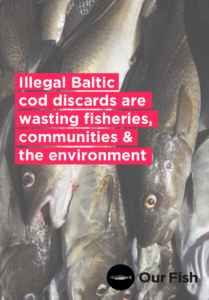 Most Baltic fisheries – particularly the iconic cod stocks – are in serious danger. At its peak in 1984, fishers landed more than 440,000 tonnes of Eastern Baltic cod, but today, with dwindling stocks, they are allowed to bring home less than 40,000 tonnes a year. Eastern Baltic cod are not only shrinking in number, but also in size – individuals longer than 45 centimetres have virtually disappeared. Nine years ago, Western Baltic cod stock also plunged to the brink of collapse, and while it has started recovering, it is still considered very fragile due to poor recruitment. As a result, it has been subject to closures during spawning time, along with severe cuts to quotas, in order to save the stock.
To add insult to injury, even though the landing obligation was introduced in to the Baltic Sea in 2015, it is widely acknowledged that widespread illegal discarding is still taking place. Three years after discarding was banned, unreported discards of Eastern and Western Baltic cod were estimated as having reached 10.1 million fish in 2017.
By failing to properly monitor and enforce the discard ban in the Baltic Sea Baltic governments risk the sustainability of fish stocks, as well as undermining scientific advice, rewarding non- compliance, penalising selective fishers, and jeopardising the reputation of the EU seafood supply chain through illegal activity.
Why are the Baltic's iconic cod stocks, and the communities that depend on them, being left out in the cold rather than receiving meaningful actions that will preserve and rebuild it?
It is now high time for EU Member States to stop protecting illegal and unsustainable fishing, and instead begin building a future that can deliver secure fish stocks, healthy communities and transparent fisheries management.
Download report pdf: Illegal Baltic cod discards are wasting fisheries, communities & the environment
Photo: Kagsdorf, Germany, freshly caught cod, Agencja Fotograficzna Caro / Alamy Stock Photo