Copenhagen, London, Los Angeles, 4 October 2018:- Hollywood legend Sean Penn leads a stunning parade of movie stars and celebrities posing – without their clothes – with iconic and threatened fish species, to send a strong message to EU governments to end overfishing.
"These stars are aligning to make a bold statement: end EU overfishing by 2020. Now it's time that EU governments make brave decisions to secure the long-term health of our oceans, our fish stocks, and the future of coastal communities," said Rebecca Hubbard, Program Director of Our Fish. The campaign is calling on European citizens to join thousands of others who have signed a petition calling on ministers to #endoverfishing.
The celebrities were photographed by Alan Gelati for Brighton restaurant MOSHIMO's celebrated Fishlove campaign as part of a major coordinated effort by the Our Fish organisation to urge European governments to end overfishing by 2020. The series features actors from Hollywood, London and Copenhagen, with more European stars set to join by the end of the year.
In Hollywood, Sean Penn, actress, model and singer Paris Jackson, Clark Gregg (Avengers, Agents of S.H.I.E.L.D.), Elizabeth McGovern (Downton Abbey), Josh Brolin (Deadpool 2), Leila George (Mortal Engines, The Long Home), and Australian actors Ben Lawson (Neighbours, Designated Survivor), Lincoln Younes (Tangle, Home and Away), and Jai Courtney (A Good Day To Die Hard, Suicide Squad), have all appeared with fish provided by Santa Monica Seafood.
The US watermarked images are viewable here. For high resolution, unwatermarked images contact Nicolas Rohl, nicky@fishlove.co.uk.  Caption that must be published with images: "Celebrities and actors pose with fish in a courageous call on EU governments for bold action to #EndOverfishing in Europe's waters by 2020. © Fishlove/Alan Gelati."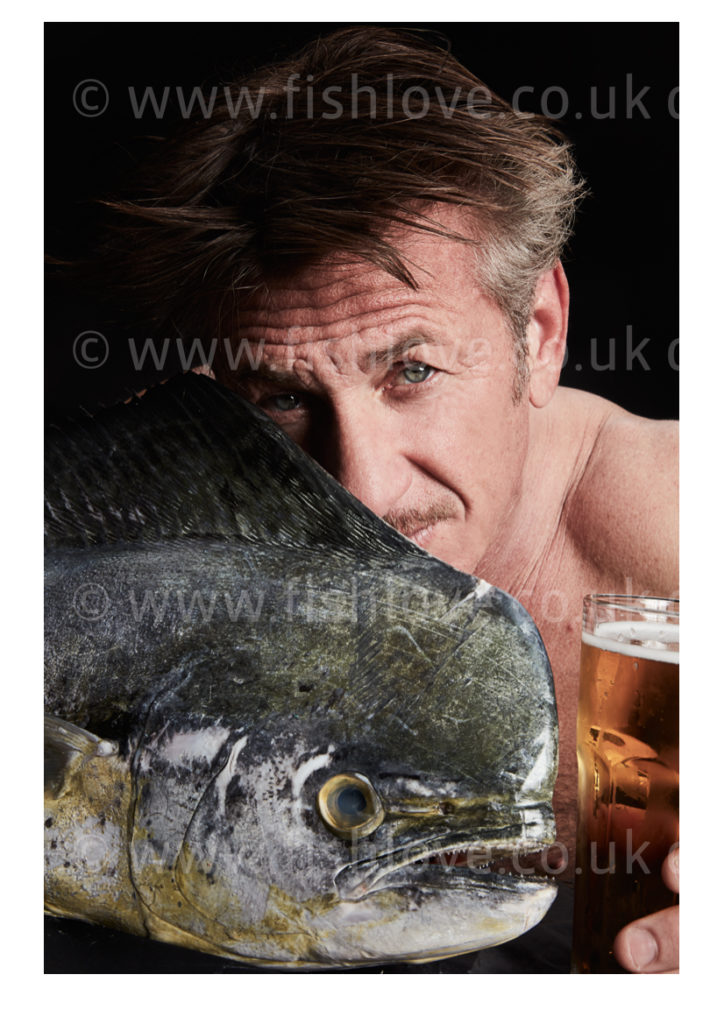 "For our children's future, the future of food security, our oceans, the coastal communities and jobs that depend on healthy oceans, cultural traditions, incredible marine life, wild and amazing creatures, it's upon us all to support Fishlove," mused Sean Penn, posing with a Mahi Mahi.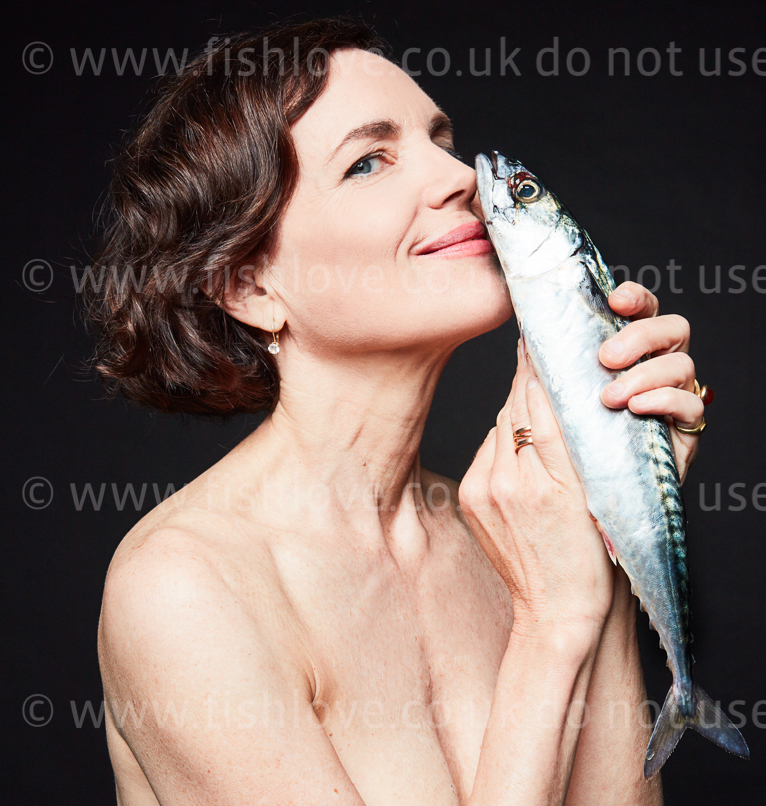 "We must put an end to the pillaging of our planet for short term gain. We must protect our oceans from overfishing for the sake of our children and our children's children. Only by applying constant public pressure can we ensure governments will enforce the laws which will protect our oceans; which will protect our planet", said Elizabeth McGovern, holding a mackerel.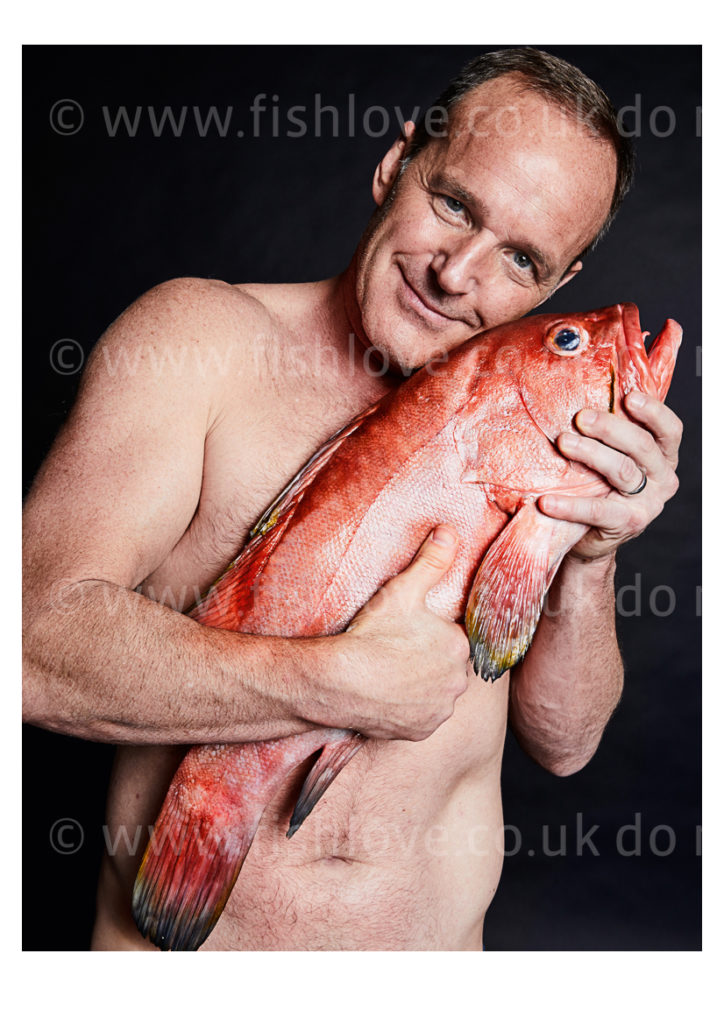 "Love our fish, love our oceans. Keep our fisheries safe and vital now and forever", said Clark Gregg, who appears with a red grouper.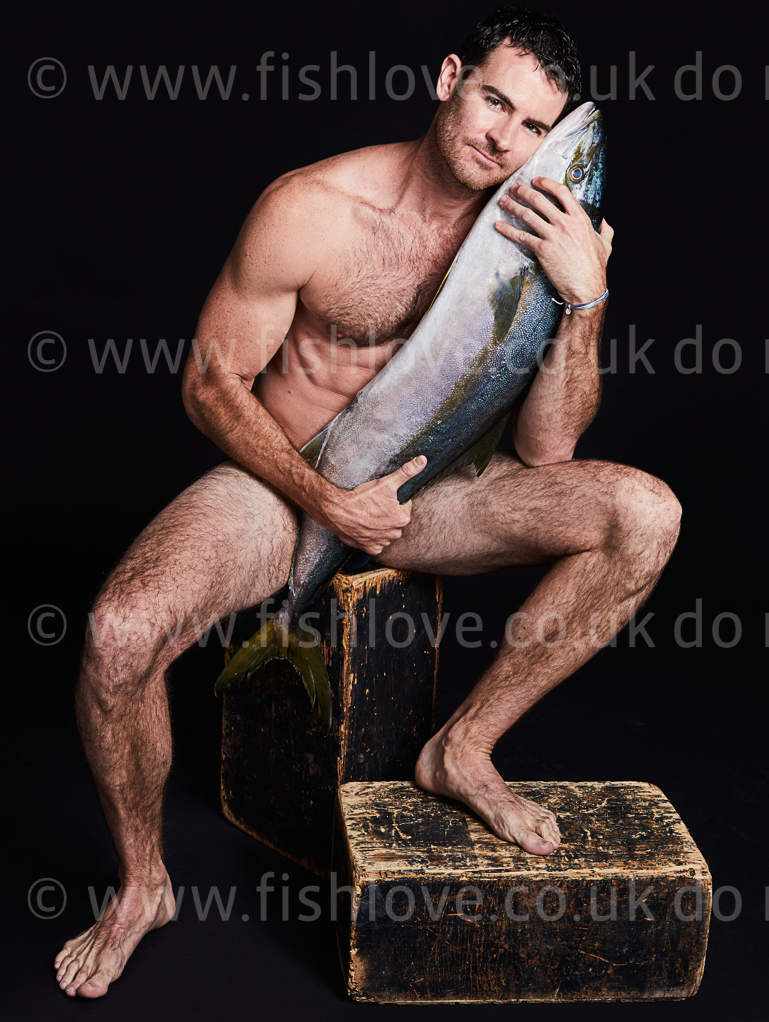 "Europe's seas are overfished. If we keep this up, there will be few fish in the future. This year we have a chance to make a change that will ensure more seafood, jobs and profits. If EU fisheries ministers take immediate action to stop Europe's overfishing we can revive our oceans and fish stocks", said Ben Lawson.
The image featuring Deadpool 2's Josh Brolin, which was released earlier this year shows the actor holding a sustainably caught wahoo (Ono).
UK PHOTOSHOOT
In London, actress and model Cressida Bonas, actress, poet, model and filmmaker Greta Bellamacina,  7.5 months pregnant actress Jeany Spark (Wallander, Collateral) and  actor Jude Akuwudike (Beasts of No Nation, Sahara) appeared with fish from Brighton & Newhaven Fish Sales.
View the UK images here. For high resolution, unwatermarked images contact Nicolas Rohl, nicky@fishlove.co.uk. Caption that must be published with images:  "Celebrities and actors pose with fish in a courageous call on EU governments for bold action to #EndOverfishing in Europe's waters by 2020. © Fishlove/Alan Gelati."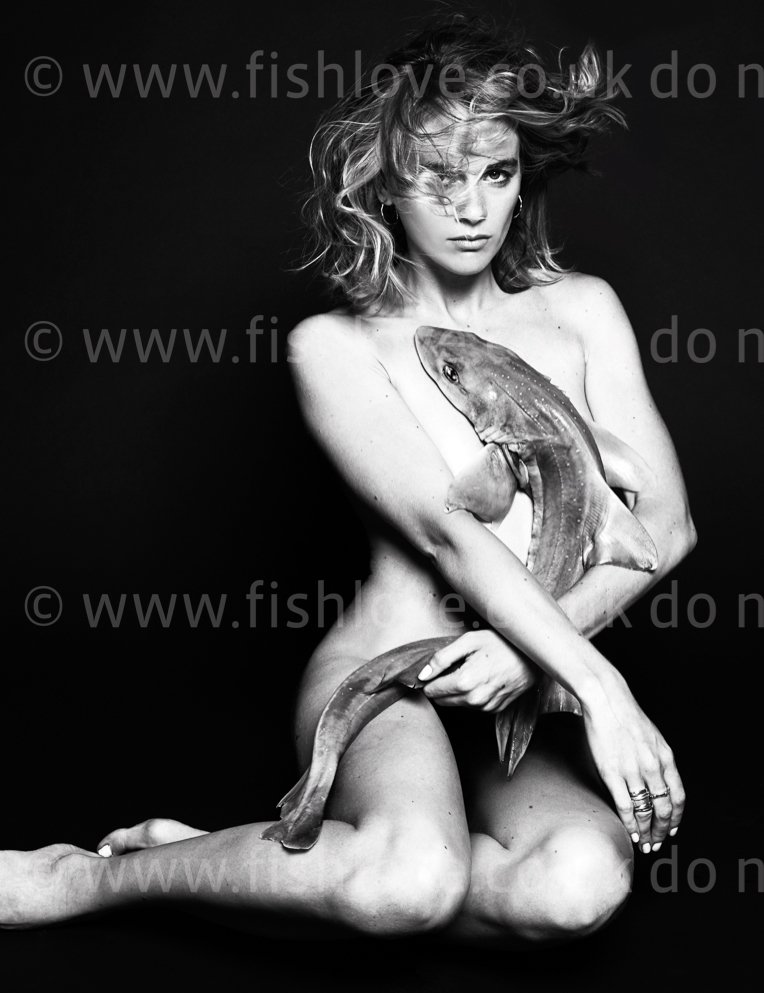 "Unsustainable fishing practises are not only destroying our beautiful marine life, but also hurting coastal communities, jobs and the people that depend on our oceans", said Cressida Bonas, holding a smoothhound shark. "I'm very proud to be part of this fishlove campaign; to raise awareness for the cause and to do my small part to try to put an end to overfishing, before it's too late."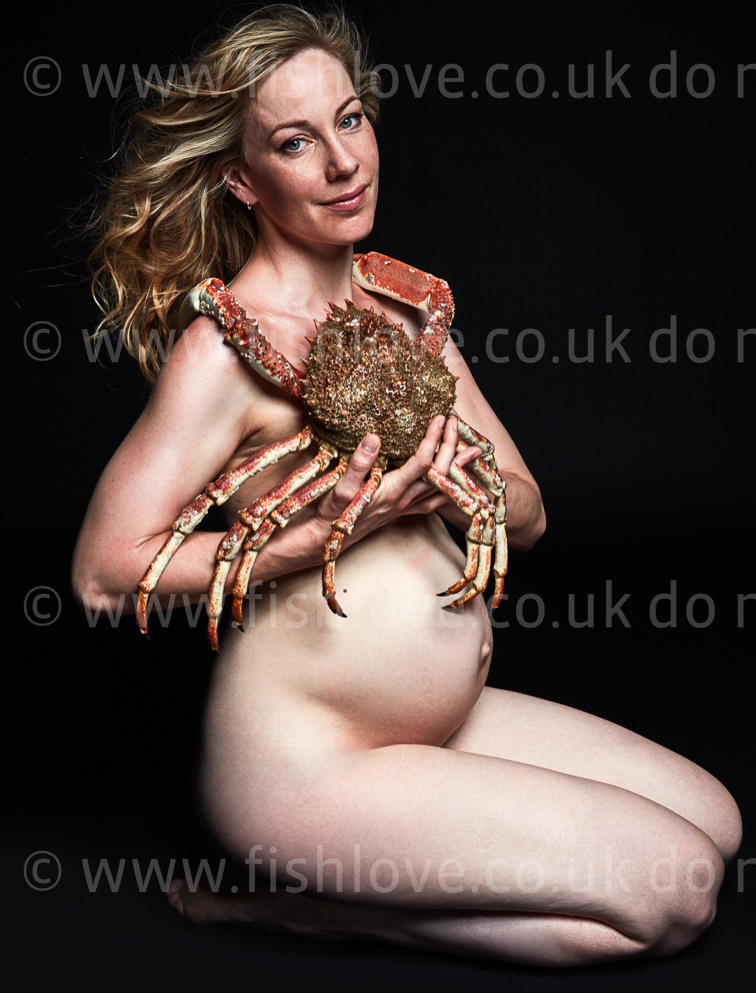 "The protection of our oceans & healthy fish stocks are more important than ever to me. In this portrait I am seven & a half months pregnant with my son: I want him to grow up to enjoy these natural resources. I want his future to be one in which we as individuals & as communities make wiser decisions; take kinder actions", said Jeany Spark, holding a spider crab.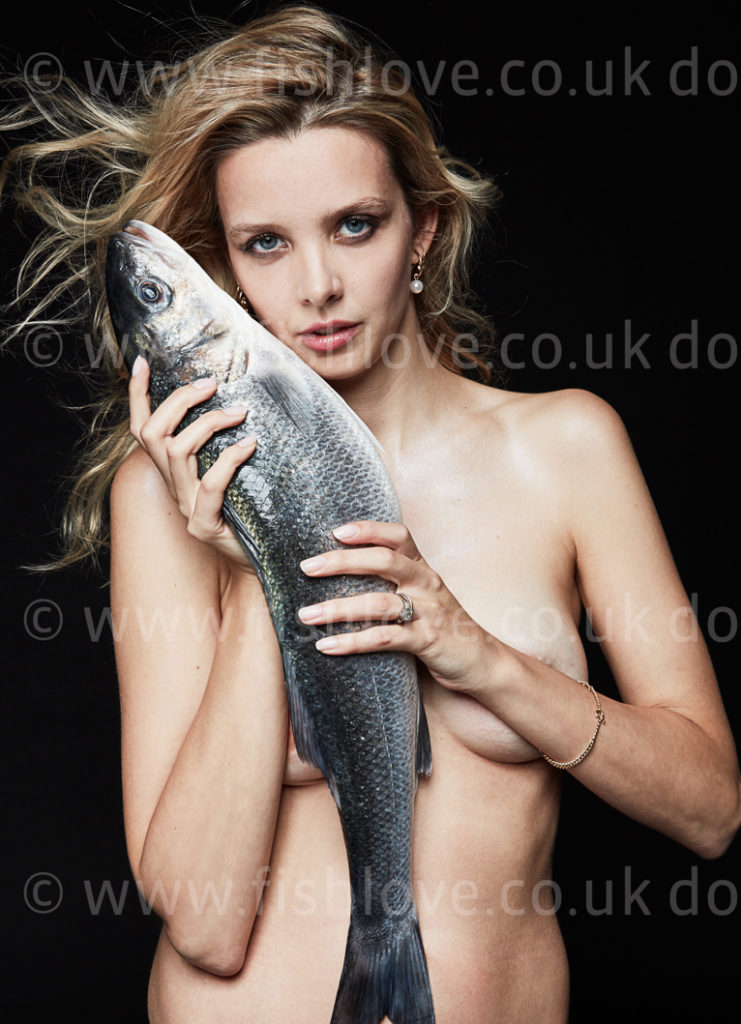 "The sea is a constant motif in my poetry", explains Greta Bellamacina, holding a sea bass. "The sea is 'the great freedom' and the great muse. But it's more than that, it's essential to our life on earth. The sea's phytoplankton contributes more than half of the oxygen in the Earth's atmosphere. We need to save the sea before it's too late. We urgently need to stop overfishing, and stop plastic pollution and cut carbon emissions. If the sea goes, our ecosystem goes and we all go too."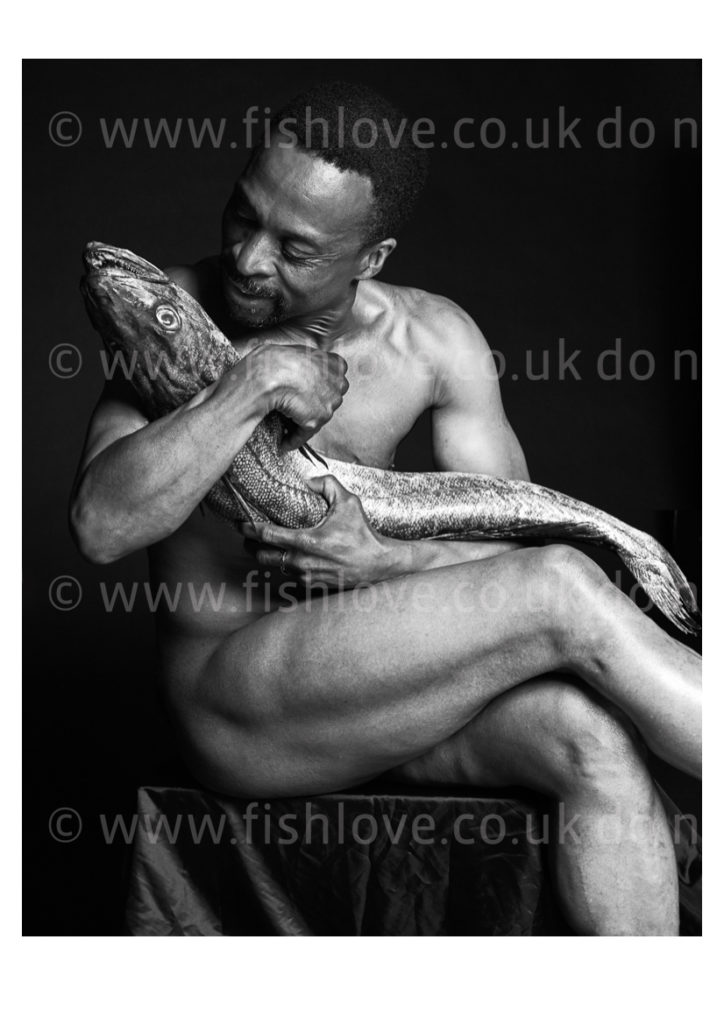 Jude Akuwudike holding a hake
COPENHAGEN PHOTOSHOOT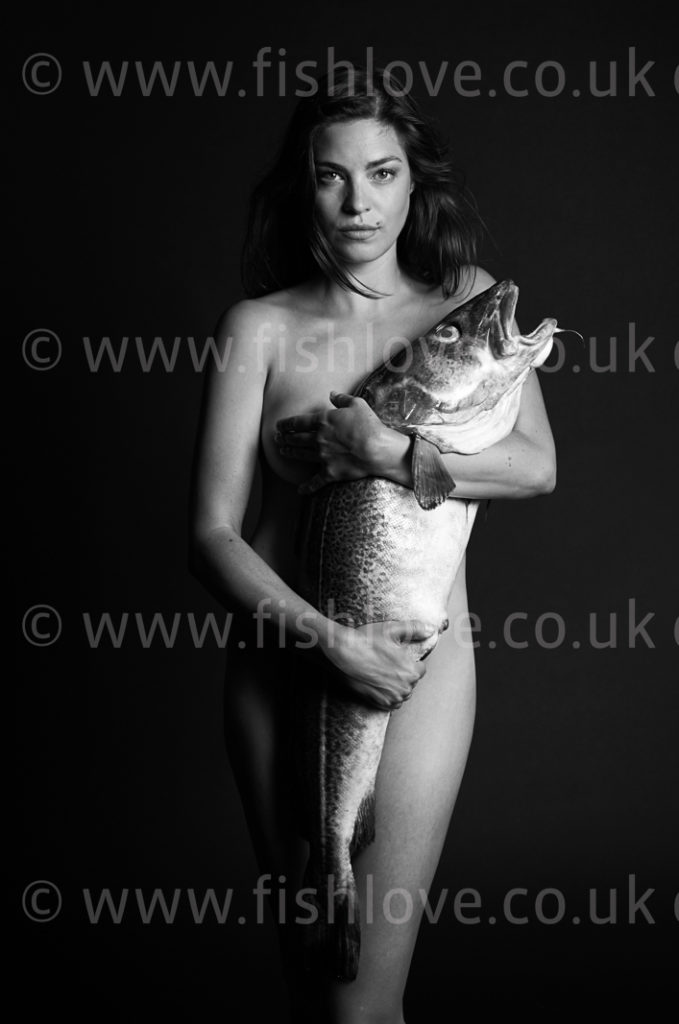 Natalie Madeuno holds a Baltic Cod
In Copenhagen, actor Thure Lindhardt (The Bridge, The Last Kingdom), award-winning actress and singer Trine Dyrholm (Springflod, The Commune), actor Lars Brygmann (Dicte: Crime Reporter, Stealing Rembrandt, Borgen), actress Natalie Madeuno (Follow the Money, In Love and War), actor Nicolas Bro (The Killing, The Bridge) and actress Iben Hjejle (High Fidelity, Dag, Dicte, Langt fra Las Vegas) all posing with a massive Baltic cod – a species under serious threat from overfishing, supplied by David Lange at Kystfisker Kompagniet.
View Denmark images here.  For high resolution, unwatermarked images contact Nicolas Rohl, nicky@fishlove.co.uk.  Caption that must be published with images: "Celebrities and actors pose with fish in a courageous call on EU governments for bold action to #EndOverfishing in Europe's waters by 2020. © Fishlove/Alan Gelati."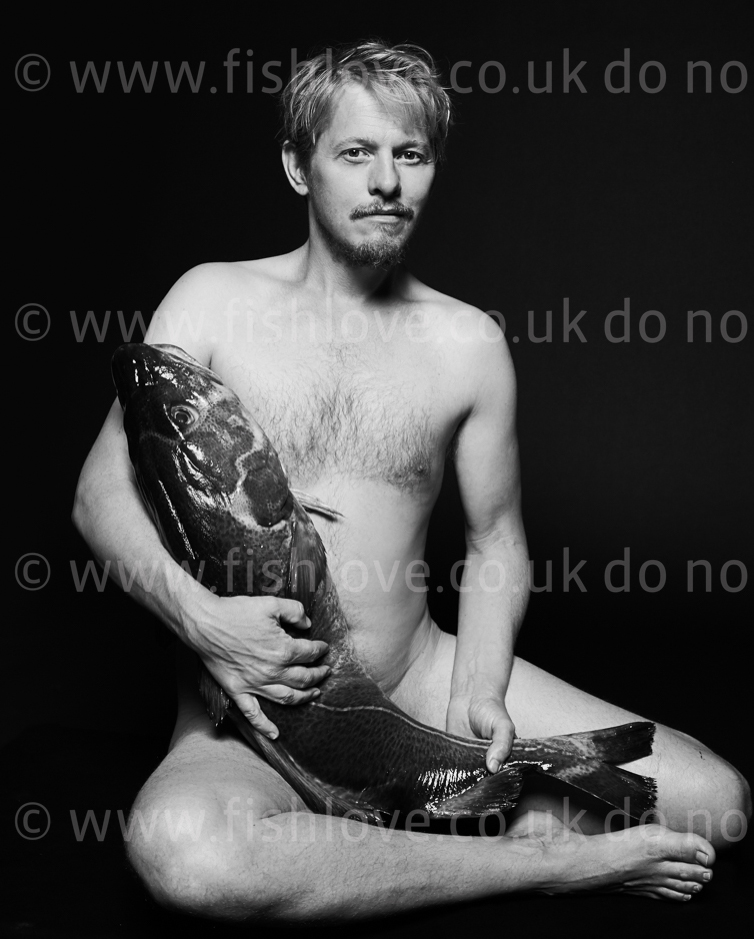 "Our oceans do not belong to us", said Thure Lindhardt, holding the Baltic cod. "They belong to our children and grandchildren. It is now we must do something to protect not only the oceans but indeed the future of our own species".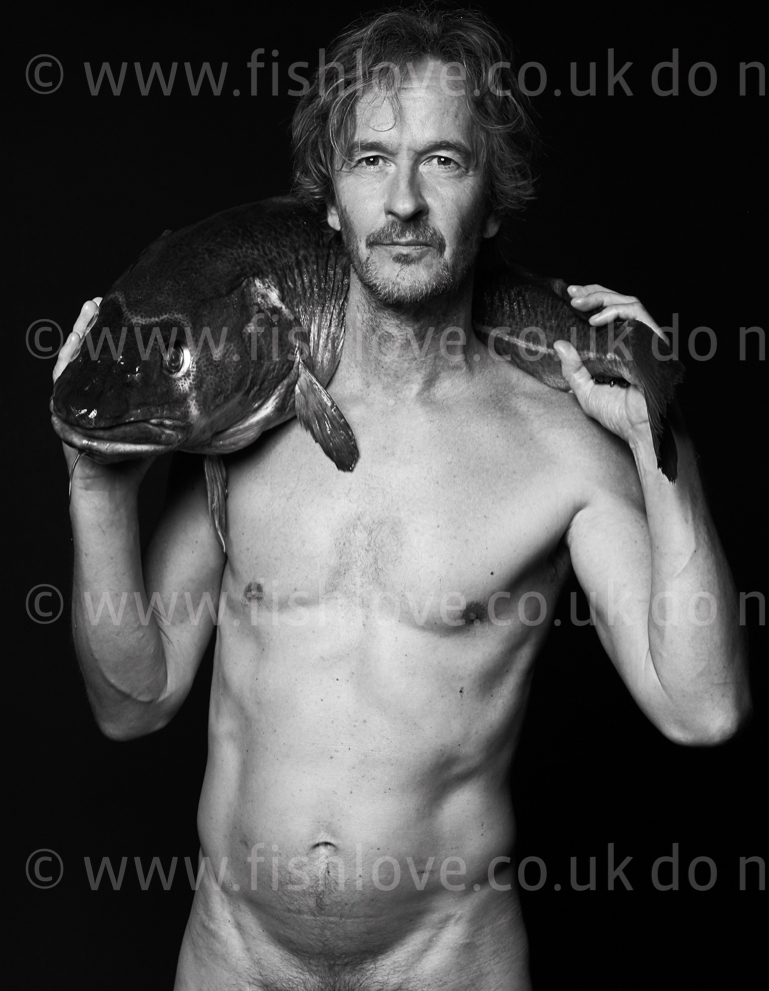 "Fish are food, healthy food, and so it's important that we still have enough fish in thirty or forty years from now ", said Lars Brygmann. "Fish stocks must be taken care of for the future generations to come".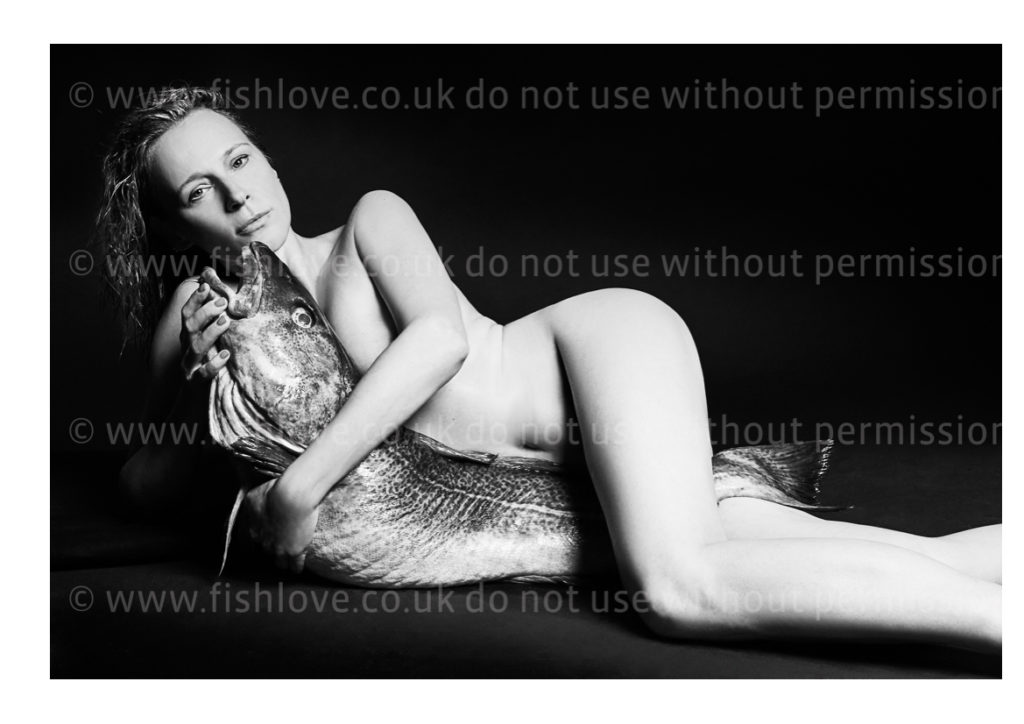 Iben Hjejle holds a Baltic Cod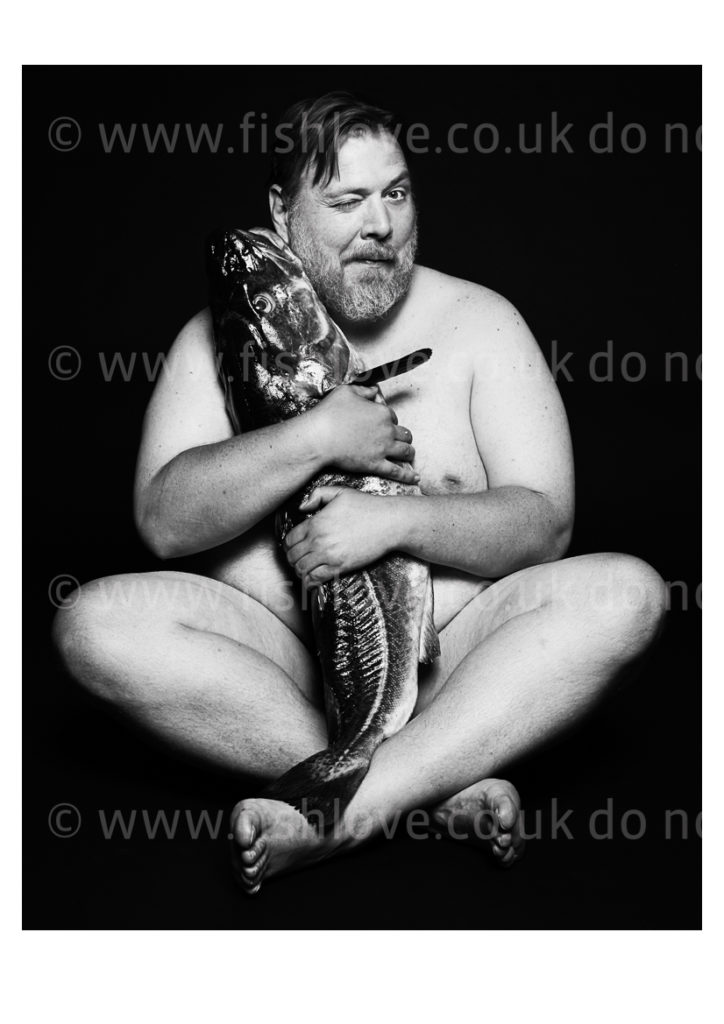 Nicolas Bro holds a Baltic Cod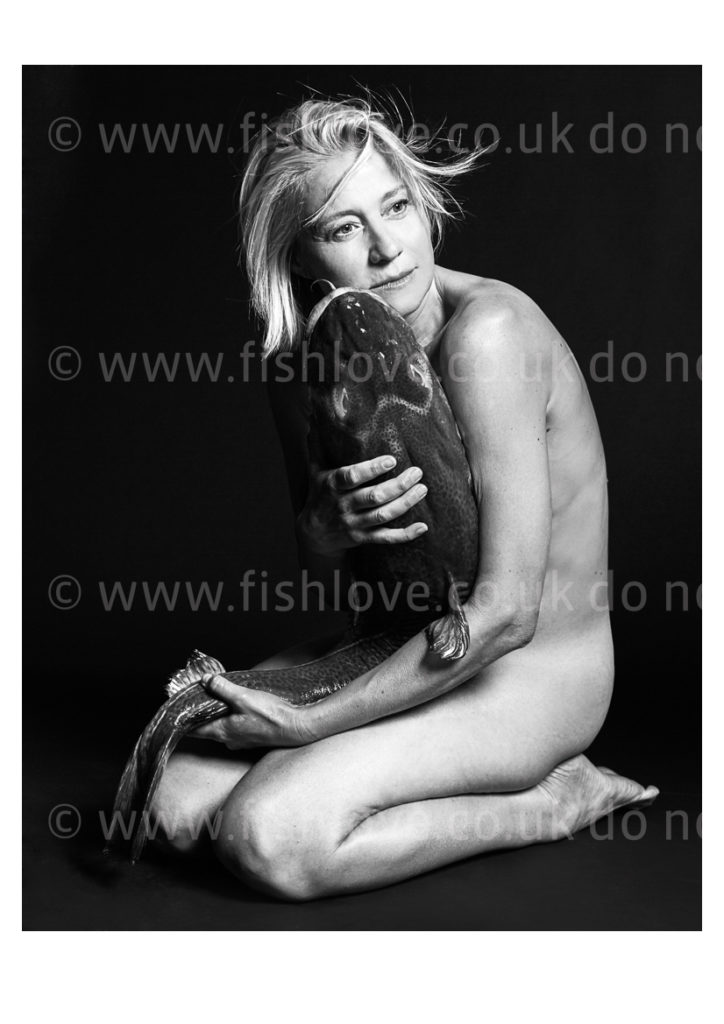 Trine Dyrholm holds a Baltic Cod
Fishlove has already featured luminaries such as Gillian Anderson, Ben Kingsley, Helena Bonham Carter, Sir Richard Branson, Emma Thompson, Judi Dench, Kenzo, and a host of others who have shed their clothes and hugged a fish for the cause, working with well known photographers such as Rankin and Jillian Edelstein.
Before the end of 2018, more celebrities from across European countries will join the Fishlove campaign to support an end to EU overfishing by 2020.
Fish facts:
Fishing is one of the biggest pressures on the our global ocean; worldwide, around one third of fish stocks are overfished to unhealthy levels, and 60% of fish stocks are fished to their maximum sustainable limit.

 

FAO: The State of World Fisheries and Aquaculture 2018 – Meeting the sustainable development goals..

The United Nations' 2030 Agenda for Sustainable Development, and its 17 Sustainable Development Goals (SDGs) challenge the world to shift to a sustainable and resilient path – with SDG 14 focused on the ocean: "

Conserve and sustainably use the oceans, seas and marine resources for sustainable development

"

Historically, the US has shown considerable courage in putting in place legislation and mechanisms to end overfishing, to the considerable benefit of marine environment and dependent communities – the EU could learn a great deal from the US in how decision-making was depoliticised, with fisheries managers being restricted in the fishing limits they could set by the scientific advice and the obligation to restore overfished stocks.

The strength of US legislation is now being threatened domestically, but nevertheless provides an example that bold decision-making in favour of ending overfishing works – all EU decision-makers have to do is to show the same commitment to long-term objectives.

In 2013, EU decision-makers agreed to end overfishing by 2015, or 2020 at the latest but so far progress has been too little and too slow:

The Mediterranean and Black Sea have the highest level of overfished stocks in the world

Around 40% of fish stocks in the Atlantic and Baltic are still overfished or being fished too intensely
Contacts
To obtain high-resolution, unwatermarked images for publication, contact Nicolas Rohl, nicky@fishlove.co.uk +44 7941 492 305
Photographer AND caption MUST be added to any usage of this image:
"Celebrities and actors pose with fish in a courageous call on EU governments for bold action to #EndOverfishing in Europe's waters by 2020. © Fishlove/Alan Gelati."
Dave Walsh, Our Fish Communications Advisor, dave@our.fish +34 691826764
About Fishlove
Fishlove was set up in 2009 by Nicholas Röhl, co-owner of MOSHIMO, and actress Greta Scacchi to raise awareness of the unsustainable fishing practices that are destroying the earth's marine ecosystem.
Since then, the Fishlove images have succeeded in bringing the subject of overfishing to the front covers and pages of the world's media many times over. It is a visual petition of amazing people, including Sir Ben Kingsley, Sir Michael Gambon, Sir Richard Branson, Melanie Laurent, Fiona Shaw, Terry Gilliam, Kenzo, Dame Judi Dench, Emilia Fox, Mark Rylance, Emma Thompson, Helena Bonham-Carter, and Imelda Staunton, to save our seas.
In acknowledgment of the central role Fishlove has played in promoting fish conversation as part of the reform of the EU Common Fisheries Policy in 2013, a major and influential exhibition of the portraits was held at the European Commission in Brussels at the invitation of Maria Damanaki, then EU Commissioner for Maritime Affairs and Fisheries.
Helena Bonham-Carter's image with a tuna, released in 2015, is credited with having helped persuade the UK government to commit to establishing some of the largest, fully protected marine reserves on earth.
All of the fish shown in the photographs are commercially fished, although some species shown are regarded by scientists as being over-fished and threatened. Fishlove believes that the use of these fish in these photographs is justified so as to highlight what species could be lost if overfishing continues.
None of the fish depicted in the photographs have been specifically caught for the purposes of making these photographs, and would have been landed irrespective of whether these photographs were taken or not. Other than in very unusual circumstances, the fish photographed are eaten afterwards. The fish in this image was sourced from Santa Monica Seafood.
Fishlove is produced by MOSHIMO, an independent Japanese restaurant in Brighton, UK, co-owned by Nicholas Röhl and Karl Jones. Famous for its Fishlove campaign, the restaurant has also won a prestigious PETA award for its promotion of plant-based eating.
Follow on:
Twitter @fishlove2020 Instagram @fishlovecampaign Facebook @fishlovecampaign
About Our Fish
Our Fish works to ensure European member states implement the Common Fisheries Policy and achieve sustainable fish stocks in European waters.
Our Fish works with organisations and individuals across Europe to deliver a powerful and unwavering message: overfishing must be stopped, and solutions put in place that ensure Europe's waters are fished sustainably. Our Fish demands that the Common Fisheries Policy be properly enforced, and Europe's fisheries effectively governed.
Our Fish calls on all EU Member States to set annual fishing limits at sustainable limits based on scientific advice, and to ensure that their fishing fleets prove that they are fishing sustainably, through monitoring and full documentation of their catch.
Follow Our Fish on Twitter: @our_fish