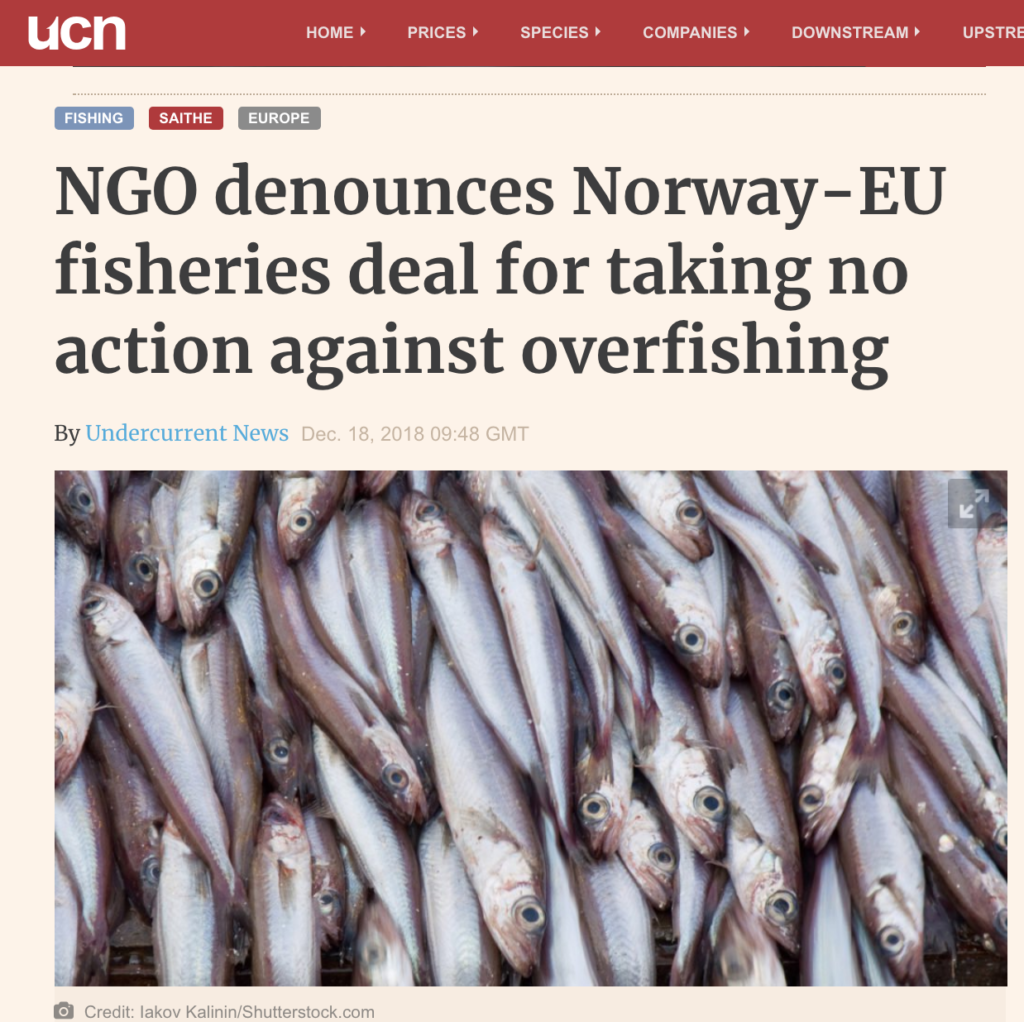 Undercurrent, 18 December 2018: NGO denounces Norway-EU fisheries deal for taking no action against overfishing
The environmental NGO Our Fish has attacked the fisheries deal that was finalized between Norway and the EU on Dec. 13, which it has called "the worst outcome for shared fish stocks in ten years". 

The deal set the new total allowable catches (TACs) in 2019 for a number of jointly-managed fish stocks in Norwegian waters including cod, blue whiting, haddock and saithe. The value of quotas for the common stocks and quota swaps contained in the agreement is estimated at approximately NOK 8 billion ($920 million) in total.

However, Our Fish has castigated both parties for failing to take any action to reduce overfishing in the North-East Atlantic, noting that of the 16 fishing quotas agreed upon in the deal, only two were set in line with scientific recommendations.

Furthermore, Our Fish said that nine of the 16 TACs were actually more than 25% over the maximum sustainable yield.

"It is no surprise that decisions taken behind closed doors, with industry present, lack both vision and accountability," said program director Rebecca Hubbard. "The decision by the EU and Norway to continue overfishing is consistent with the cave-dweller approach that has blinkered European fisheries management for too long."

The EU authorities are under significant pressure to end overfishing around Europe by 2020, as stipulated in the common fisheries policy. Our Fish and other environmental NGOs have accused agreements such as this one of serving short-term industry goals, rather than accounting for the wider picture.

The organization was also heavily critical of the decision to set five of the 16 TACs above the bycatch exemptions set out in the landings obligation.

"EU ministers have again refused to implement the ban on discarding at sea and failed to put in place a monitoring system that ensures illegal and unreported discarding stops and the limits are followed", added Hubbard.